| | |
| --- | --- |
| Hudson Dealerships | |
History of Hudson Dealerships
The dealership section is not only dedicated to the dealerships of the Jet years, but all known Hudson dealerships.
UNITED STATES
U.S. TERRITORIES
Virgin Islands
OTHER COUNTRIES
---
Listing all the dealers is an enormous task. The ones you'll see on this site are just a handful of the over 7,500 dealerships during the 1909-1957 era. If the numbers are accurate, and assuming it included Essex, we see that there were some dealers dropping out each year and new ones being added.

The information comes from the publication Automotive Industries in the Annual Statistical Issue, 1926-1941. I found it in a publication that used the information: The Decline of Competition in the Automobile Industry, 1920-1940 by Harold Katz, Arno Press, NY 1977, pp.365-366.

The above reference indicates that in 1926 there were 3,842 dealers representing Hudson. The number varies each year but has the highest number ( as noted) in 1926 while 3,754 in 1927, 3,508 in 1928 and 3,488 in 1929. 1930 information is cut off and not readable. 1931 is 2,270, 1932 is 1,761, 1933 is 1,842, 1934 is 2,641. 1935 is not readable. 1936 is 3,263, 1937 is 3, 390, 1938 is 2, 436, and 1939 is 2,667.


ALABAMA
Birmingham, AL: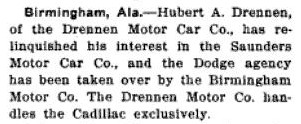 Birmingham Motor Co., 2101 S. Third Ave. (corner of Third Ave S & Richard Arrington Jr. Blvd.) "The contract has been let for the erection of a garage for the Birmingham Motor Company" per Automotive Industries Vol. 28 of April 17, 1913. Located in the Automotive Historic District, records show the approximately 20,000 sq. ft. building was built circa 1914 and renovated in 2001. It now houses a Plasma Care office.

Montgomery, AL:
Reinhardt Motors, Inc., 312 catoma street. Beginning business in 1940 selling Willys-Overland, they sold Hudson from 1951-1954. Today, they operate Lexus and Toyota franchises.

Tuscaloosa, AL: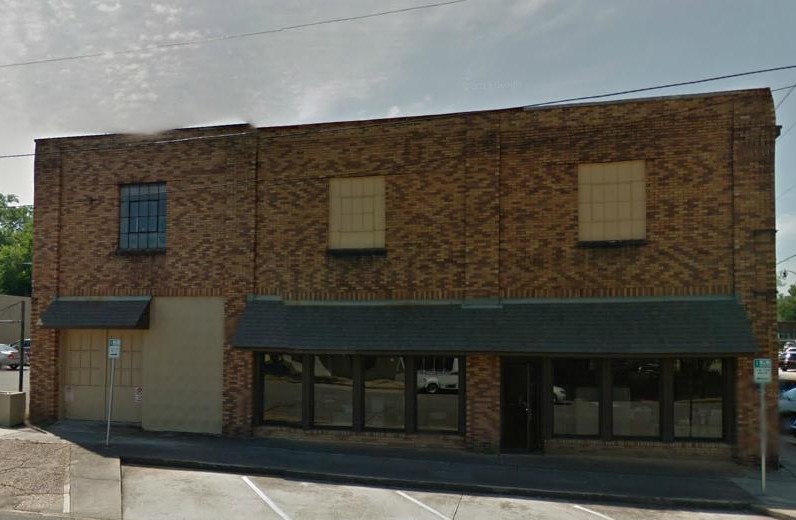 DeLoach Motors, Inc., 1925 6th St. In business during at least 1953. Click here for more pictures.

Tuscumbia, AL: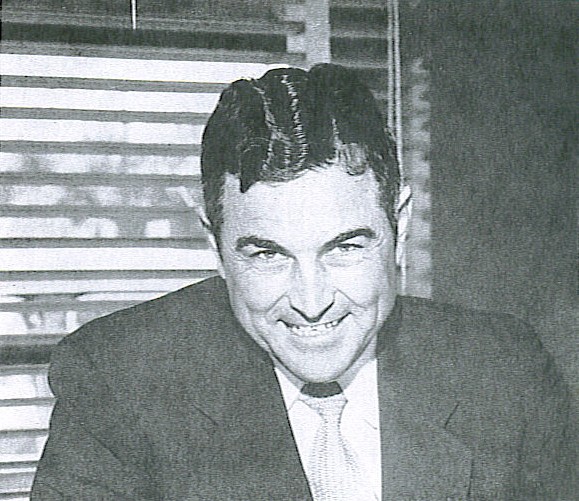 Morris Service Station, 121 W. 6th St. Charley Morris of Tuscumbia, Alabama has good reason to smile as he recalls his profit margin over the years thanks to his Hudson franchise. From December 1953 Hudson Dealer News, Charlie Morris has learned to appreciate the Hudson franchise because of the profit possibilities and the fine people connected with the factory, he declares. Charlie says, "The Hudson franchsie has enable me to not only contribute something to the civic and religious life of the community in a financial way, but also to give my customers the finest in transportation at a cost as low as most ordinary cars. I have found that a Hudson dealer is not just like being an ordinary dealer, because to begin with, the factory is willing to give a dealer enough territory to develop profitably, and then it offers suggestions and encouragement to do the job. My investment 19 years ago amounted to less tahn $1500 with 3,000 sq. feet of space. My investment today is about $200,000 with 36,000 sq. feet, which is about to be increased. Our yearly volume in a town of 8,000 people is now approaching a million dollars. Lastly, my Hudson franchise enable me to send my three children to college."


---
ALASKA
Anchorage, AK: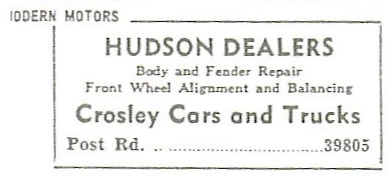 Modern Motors, Post Road. Hudson and Crosley Dealer. Also advertised Body and Fender Repair, Front Wheel Alignment and Balancing, and Automobile Painting per Spring 1951 Anchorage Classified Directory.

Anchorage, AK: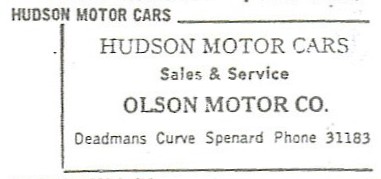 Olson Motor Co., Deadmans Curve, Spenard (suburb of Anchorage), Alaska. Clipping from City of Anchorage and Vicinity Phone Book November 1955. In business 1953-55.

Anchorage, AK:
Wells' Garage, 5th Avenue between E and F Streets. Opened in 1930, Wells provided Anchorage residents the chance to view automobiles before purchasing. Before that, they could order cars only by catalog, sight unseen. Although the Wells Garage Company was sold in 1944 to investors that changed the name to Alaska Sales and Service, I don't know what years Hudson products were offered. Click here to read a great article on Cecil Wells. (Also seen in 12/01/35 Seattle Sunday Times newspaper ad.)


---
ARIZONA
Bisbee, AZ: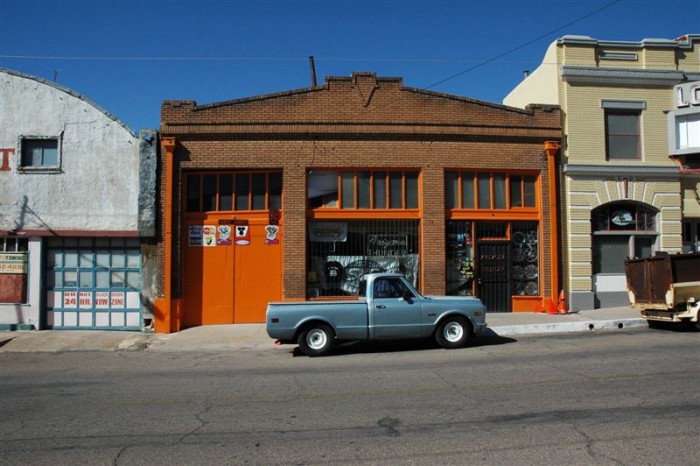 Former Hudson dealership in Bisbee, Arizona, 74 Erie St. Now home to Arizona Thunder, a motorcycle repair shop.

Flagstaff, AZ:


Babbitt-Polson Co, address unknown. Circa 1915. Read about Babbit brothers history here.

Flagstaff, AZ: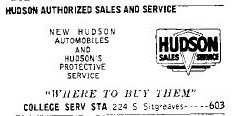 College Service Station, 224 S. Sitgreaves. Listed in Oct 1948 and Nov 1949 Flagstaff Telephone Directory.

Flagstaff, AZ:
Hudson-Essex Garage 22 S San Francisco. Listed in Spring 1931 Telephone Directory for Flagstaff, Grand Canyon, Williams, and Winslow.

Flagstaff, AZ:
Parson & Gaston 316 W. Santa Fe Ave. Listed in 1946 Flagstaff Telephone Directory.

Flagstaff, AZ:
Willard Battery Service Station 316 W. Santa Fe Ave. Listed as an Automobile Agency/Dealer for Hudson-Terraplane Motor Cars in Spring 1937 Telephone Directory for Flagstaff, Grand Canyon, Williams, and Winslow.

Phoenix, AZ: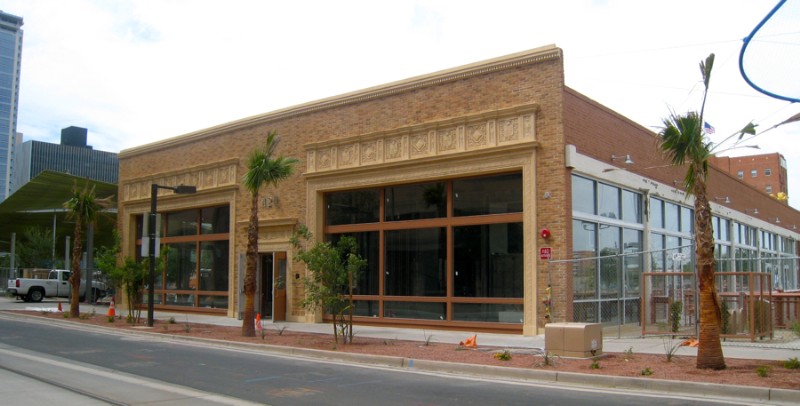 A.E. England, 424 N. Central Ave, Phoenix, AZ. The Spanish Renaissance Revival style building was constructed by locally prominent builder Clinton Campbell and had A.E. England Motors, Inc. as its first tenant. England left the auto sales business sometime in the early 1930s. The building would be occupied over the next twenty-five years by the Electrical Equipment Co., who sold items such as radios, batteries, and Kelvinator refrigerators. It has recently been renovated into a public auditorium as part of the Civic Space Park on the ASU campus.

Tucson, AZ: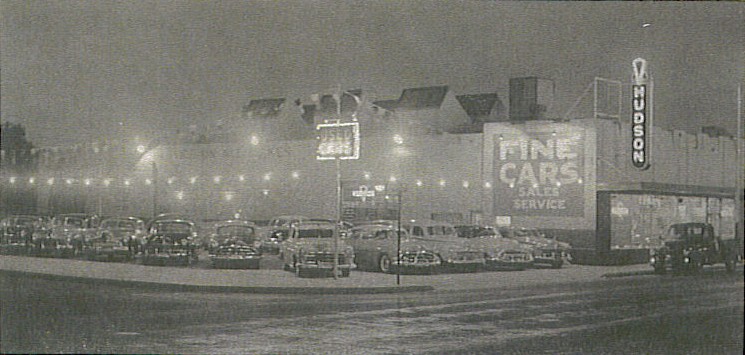 Bill Edel's Motors, Tucson, AZ. 950 North Stone Ave. Owned by Bill Edel, who signed on to the Hudson franchise in 1952. Went on to sell Land Rover as listed in June 1964 Desert Magazine ad. It then became Precision Motors for awhile, and then Hudson/American Motors was dropped. Click here for more pictures and history on this dealership!

Tucson, AZ:
Cal Messner Click here to view excellent article..

Tucson, AZ: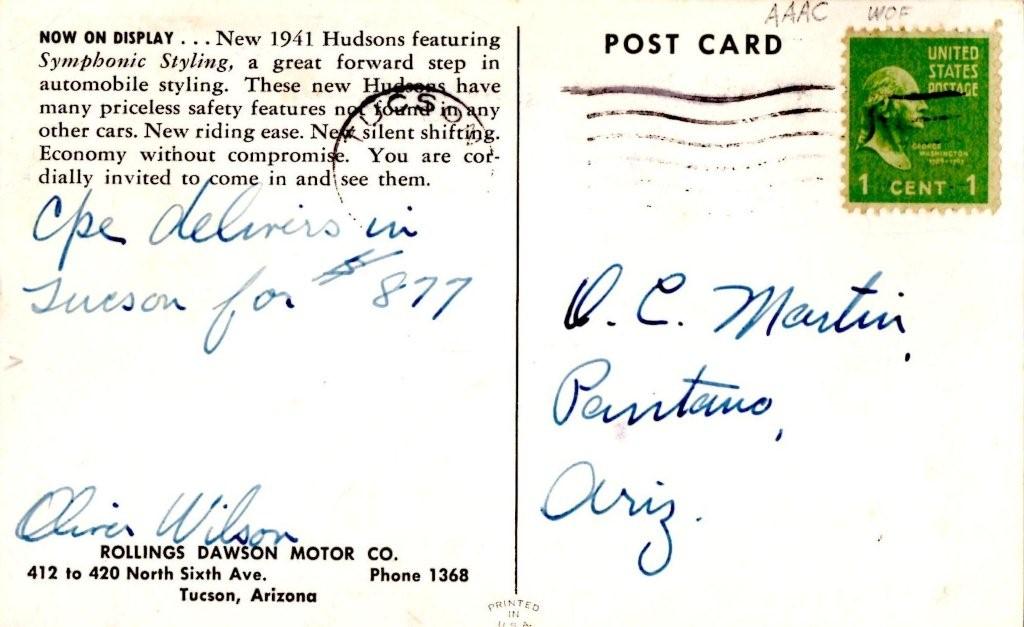 Rollings Motor Co. / Rollings Dawson Motor Co., 412 to 420 North Sixth Avenue, Tucson, AZ. In business from at least 1932-1941. Click here for more pictures and history!


---
ARKANSAS


Stuttgart, AR:



Christy's Auto Service Possibly a Stukebaker dealership before it's Hudson days.


---
UNITED STATES
U.S. TERRITORIES
OTHER COUNTRIES
---

Courtesy HET JetSet - All Rights Reserved.