| | |
| --- | --- |
| Hudson Dealerships | |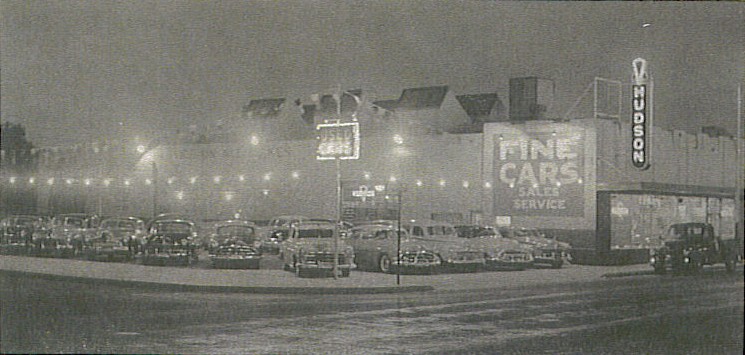 "Good lighting helps Bill's used car lot to attract prospect attention at 950 North Stone Ave." It was formerly an old Safeway store and its parking lot. In late 1954, the dealership moved to 2019 North Stone Ave and a decade or more later became Precision Motors. -- The building at 950 was demolished at some point and an Inn is now at this location. The building at 2019 is still standing, but vacant.


Bill Edel Motors
Featured story from December 1953 Hudson Dealer News:
Bill Edel Blasts Crepe Hangers


Bill Edel, Tucson, Arizona Hudson dealer is a man with a message on his mind. He comes right out in the open with it, too. Bill says, "Maybe I'm dumb, but every financial writer who preaches the blues and tells us about the terrific used car problem, should get out and visit the dealers who are aggressively merchandising their products. We don't have a used car problem, and anyone else who isn't just sitting down waiting for business doesn't have one either. I like the situation now. It means a good competitive fight and anyone who doesn't go out and fight for business should be a dealer."

Take it from Al Taylor, Bill's sales manager, this is no bunk. Al says, "We can't move new cars if the used cars won't sell. But we are moving both. Our used car volume has gone up 75% in the last three months and I can show the figures to anyone who wants to see them."

"Believe me, there are no cute gimmicks attached to this. We're just doing a coldy calculated selling job. We use a follow up system that not only gives names and address. It gives the possible prospect name and address, the type of car he is driving, what he would like for his car and what the appraisal value is pegged at. Then we use the telephone. These are more actual figures: 20 phone calls, four prospects. 60 phone calls, one sale. That's a great deal of calling, but you've got to work to get sales today."

"We use the Hudson Approved Reconditioning Procedure and we average $75 per car. Some dealers may think this is high. We don't. We feel that we have been in business a long while and we want to stay in business. We have to retain customer confidence. You know how they feel about some dealers. You know the guy that will cheat on service. Well, the chickens have come home to roost now."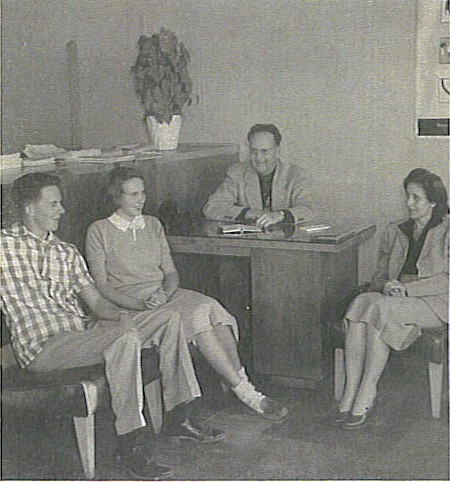 "This is the Edel family with Bill behind the desk discussing sales of cars to teenagers.
Bill indicates that teenagers have a healthy regard for Hudson products."
(Left to Right) Bill Jr, sister Judy, Bill Sr., and Laura Edel.

He Loves To Watch 'em Work
Bill Edel is a native of Springfield, Mo. His mechanical career began at the age of eight when he started repairing old machinery and gas engines on the farm. Whenever a neighbor's old tractor would break down Bill was on the spot to fix it. By the time he was fifteen, he could assemble junk cars and make the things run. He worked his way through school by a job at a filling station. After he was married, Bill decided to move to Arizona. When he arrived in Tucson, he went into a business that was service station, garage, and used car lot combined. Some years later Bill became general manager of a Chrysler dealership. I 1952, he joined Hudson. In one year, he has built substantially, until his progressive dealership is growing apace with Tucson, now with 136,000 people.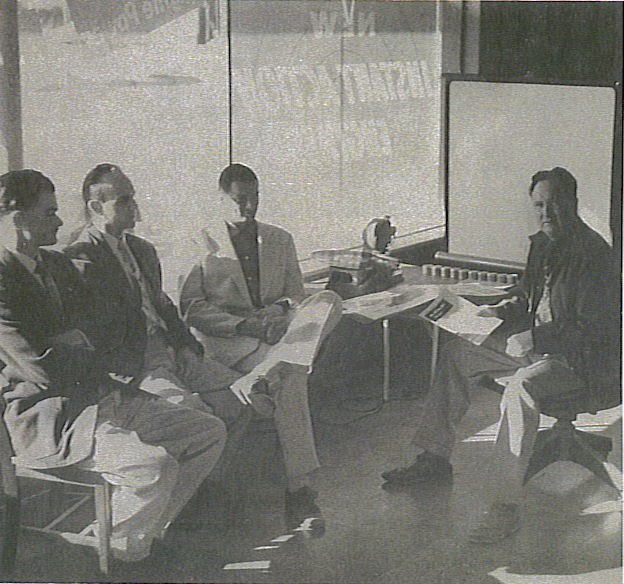 "There's plenty accomplished at these sales meetings. Bill used the projector to show Hudson films."


Bill Keeps up a stiff pace aided by his 20-year old son. He hold morning sales meetings at 7:30 AM and keeps his people pitching ideas until 8 AM. Everyone's suggestions to boost sales are given due consideration. What is more the dealership keeps open until 9 PM on weekdays and to 6 PM on Saturday and Sunday.

Bill explains it this way, "Sure we work hard. That's why we get business. That's the only way to make a go of it today."

Is the dealership doing well? Ask Al Taylor who very modestly says, "I'm averaging $800 a month in commissions. We're doing OK."

Bill points out that these are the things that have made the dealership a leader:
Qualify Your Prospects
Sell Yourself
Inspire Confidence
Advertise
Follow-up and never give up.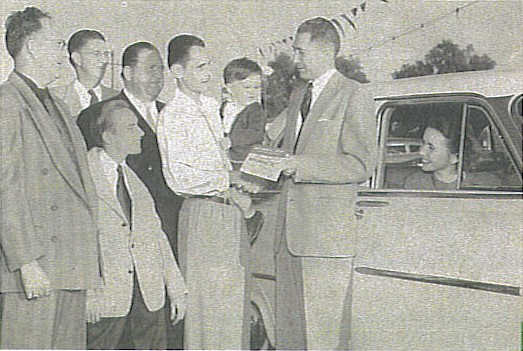 "Pleasant duty for Bill. Bill watches while Telephone Company Manager Gayle Smith gives keys to Jet to telephone employee Ronald Bohn, winner of the Teacup Contest. Tex Stevenson, Hudson Divisional Merchandising Manager and Honarary Tucson Mayor, Fred Emery look on while Mrs. Bohn watches proudly."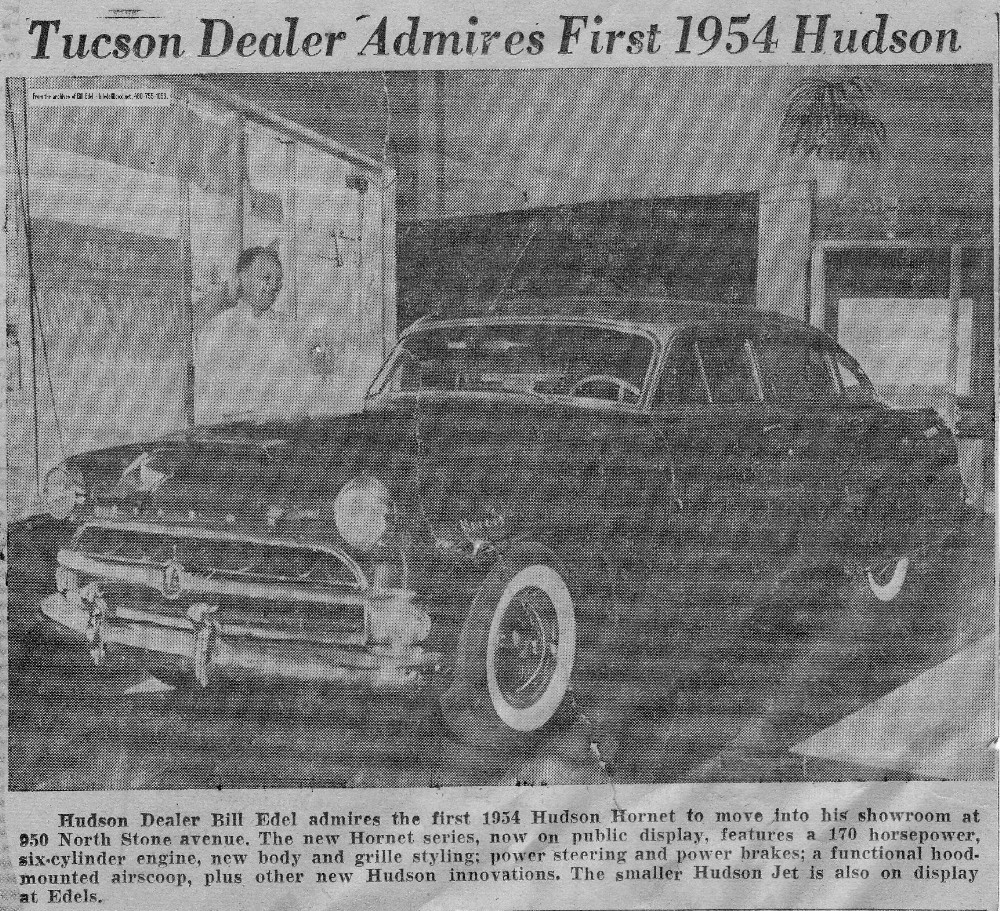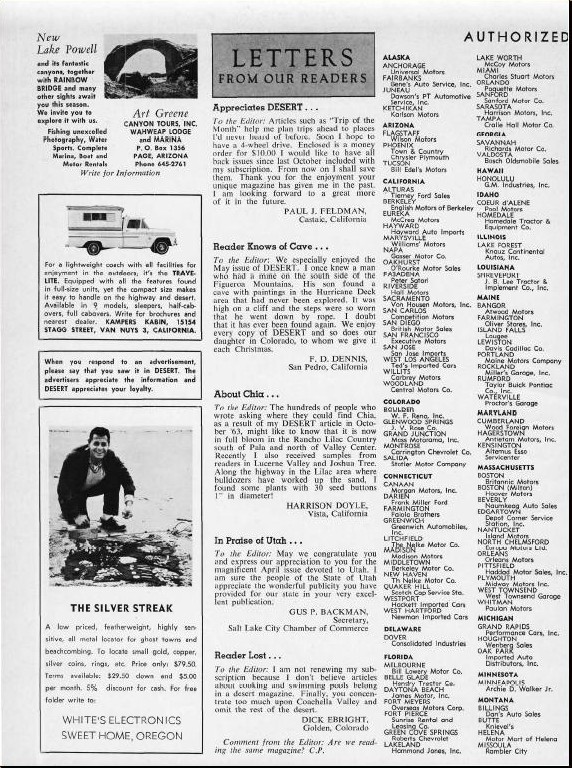 The Land Rover ad above and below is from the June 1964 Desert Magazine. It mentions Bill Edel's Motors.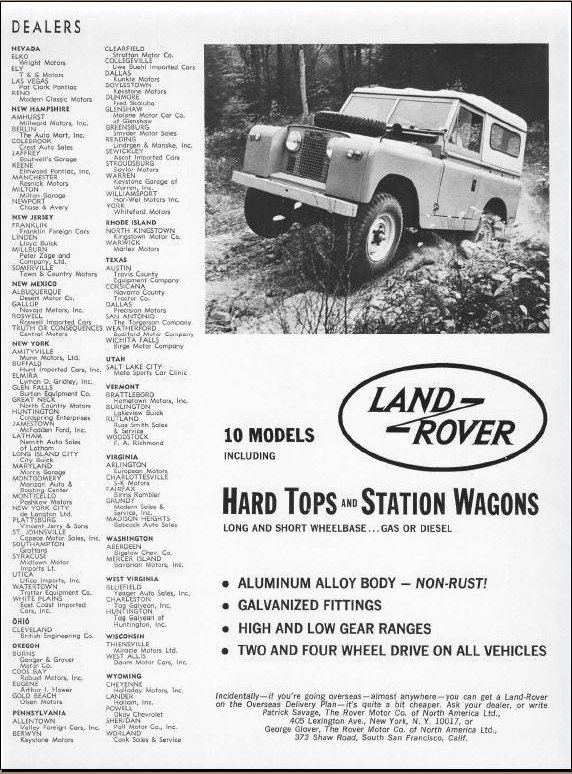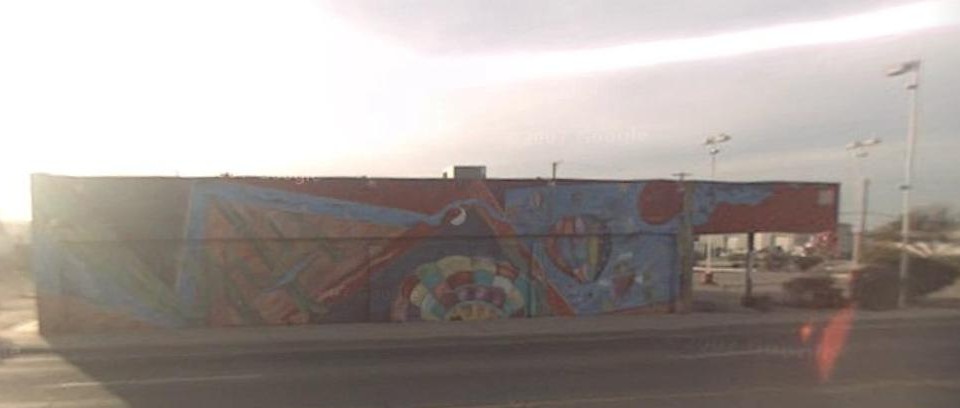 2019 N Stone Avenue building as it stands today.


---

Courtey HET JetSet - All Rights Reserved.