| | |
| --- | --- |
| Hudson Jet | |
History of Hudson Dealerships
Due to the large amount of photos, the Dealership information has been broken into several pages. Simply click on the location that interests you to be directed to the correct portion of the allocated page. -- The first Hudsons found their way across the ocean in 1913.


AFRICA
ASIA
AUSTRALIA/OCEANIA

EUROPE

NORTH AMERICA
SOUTH AMERICA
---
AUSTRALIA
---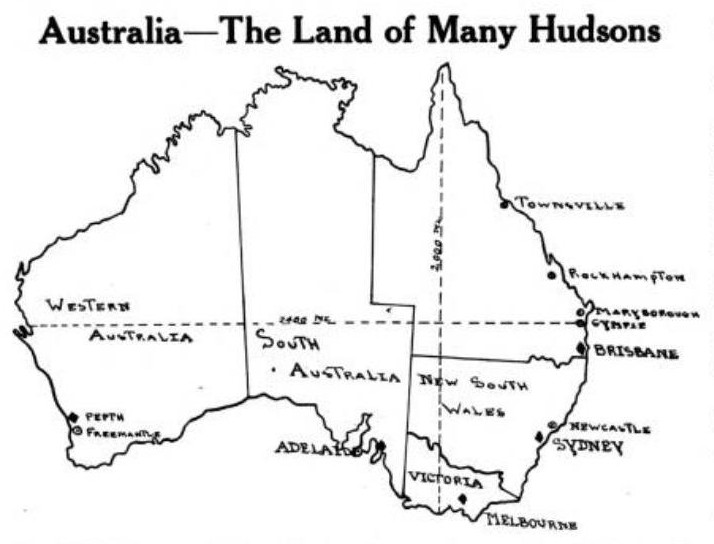 The outline map above locates the four distributors that handled the Hudson in Australia as reported in The Hudson Triangle Vol 7, No 33 on Feb 9, 1918: W. Johnson & Co, Ltd., at Perth; Motors, Ltd., at Adelaid; Kellow-Falkiner Motor Company, at Melbourne; Dalgety & Co., Ltd, at Sydney and Brisbane.


NEW SOUTH WHALES
Bowral: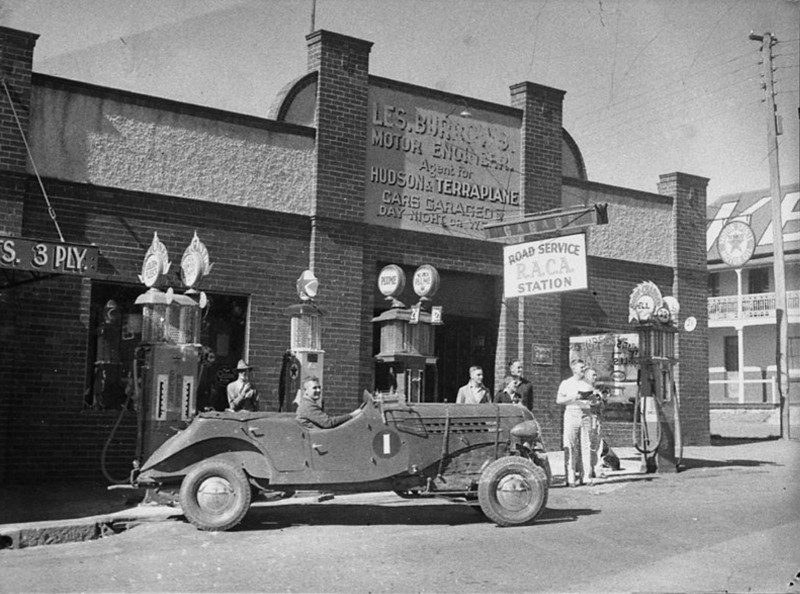 Les Burrows Motor Engineer, on the main street. Photo taken 10/5/1937. Burrows' car was a 'one off, with special body by Properts Body Works of Camperdown in Sydney. The body on this car was on Les' 1935 Terraplane and when Les acquired a new 1936 Hudson 8 minus the body, from Dalgety & Co., he transferred the body onto the 1936 Hudson. Clive Gibson was a teenage fan of Les Burrows in the 1930's, and Burrows sent Clive a couple of autographed photos of the Hudson. The photographs were taken in front of his garage & Hudson Dealership in the main street of Bowral (N.S.W.). This car competed in the Australian Grand Prix at Victor Harbour (S. Australia) 26 December 1936 with a DNF (did not finish). Frank Kleinig was also in this event driving the McIntyre Hudson also with a DNF - burst top radiator tank. Les won the 10-mile Championship in the Hudson at Penrith Speedway on ANZAC Day 1937 (Clive Gibson was there.) In its first form as a 1935 Terraplane, Les won the 116-mile road race at Phillip Island (Victoria) in November 1935. The Terraplane was painted green & the Hudson version was bright red. Clive Gibson owned the car in the 1960's having bought it from a University student with the idea of a rebuild , but he was very busy, just starting in business, so he sold it to a friend, Col Young from West Ryde (Sydney). He in turn sold it back to the University student & no more is known. The car was fully equipped with a nice hood, windscreen, Hudson mudguards & 6-wheel set up. It was very fast, being much lighter than a 4-door sedan - 24 cwt. Les stripped it for racing only & it was 20 cwt. Les raced Terraplanes at different times and the various cars can be confused. In 1938 (Easter) he finished second in the Australian Grand Prix at Mount Panorama, driving a 1933 Terraplane (stripped) on the dirt road surface. Les' last competition event was the 1954 Redex Around Australia Trial in a Vanguard. Burrows was also known as one of the few to race a "big car" on the Penrith Speedway.

Earlwood: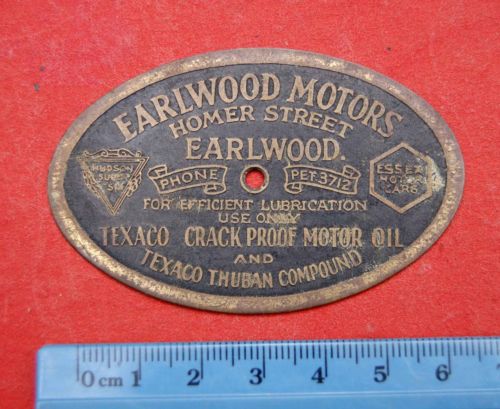 Earlwood Motors, 281 Homer Street.

Sydney:
A. W. Dye Motors LTD 177 Elizabeth St. In business during at least 1929.

Sydney:
Dalgety & Co, Ltd. (Distributor), 15 Bent St., Circa 1914-1939. Read Dalgety article.

Sydney:
Ira L. and A.C. Berk Pty Ltd., (Distributor).The Sydney Morning Herald on page 9 of Friday Dec 8, 1939 reported that, "Ira L. and A.C. Berk Pty Ltd., have been appointed distributors for Hudson products, in succession to Dalgety and Co., Ltd."

Woolloomooloo (inner-city eastern suburb of Sydney):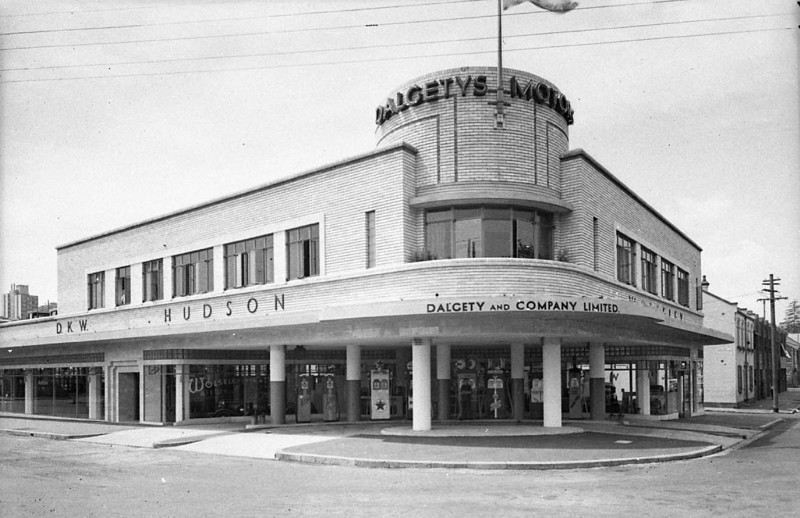 Dalgety & Co., corner of Cathedral & Riley. DKW, Hudson & Wolseley car showrooms circa 1938. Prior to 1938, Dalgety had 2 small showrooms: one on Phillip Street & the other on Elizabeth Street, central business district of Sydney. In 1940 Dalgety sold the Auto business to Ira Berk Pty Ltd. Dalgety also had an assembly plant at McElhone Street, Woolloomooloo, Sydney from the late 1920's until they sold in 1940.


QUEENSLAND
The Courier-Mail (Brisbane,Queensland) Tuesday 10 July 1934, page 6:
"HUDSONóTERRAPLANE EXPORTS - Exports from America of Terraplane and Hudson cars are closely paralleling the huge increase of sales in that country. During the period from January 1 to April 15 there has been an increase of 260 per cent, as compared with the same period for 1933 export business."
Brisbane:
Leader Motors, Limited, 415 Adelaide Street. Circa 1925-1926?.

Brisbane: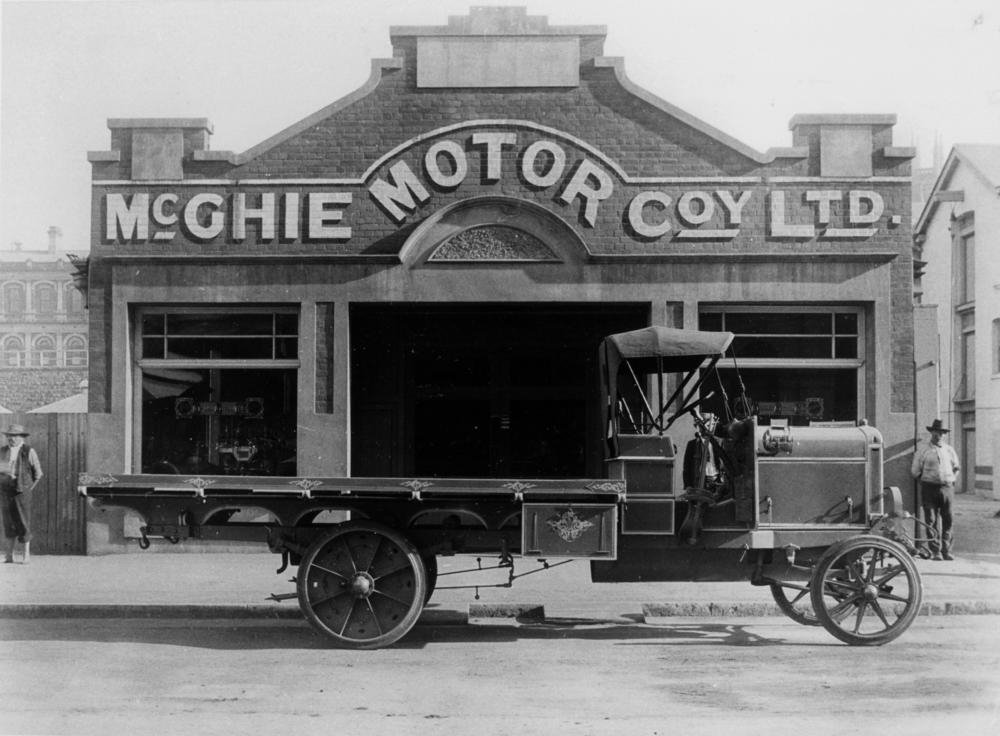 McGhie Motor Co., 235-241 Adelaide Street. In business from at least 1912-1913. The McGhie Motor Company, 'motor engineers and importers', were situated near the Gresham Hotel. (Information taken from Queensland Post Office Directory (1910-1911). In 1912 they were agents for FIAT, Sunbeam, Delage, Hotchkiss, Hudson, Itala and Clement Bayard motor cars, Douglas and LMC motor cycles and Smith's speedometers. Alternate address on Grey St. at some point?

Brisbane:
McIntosh Motors, Pty., Ltd., 219-221 Adelaide St. Circa 1929-1938. Click here for more information on this dealership.


SOUTH AUSTRALIA
Adelaide: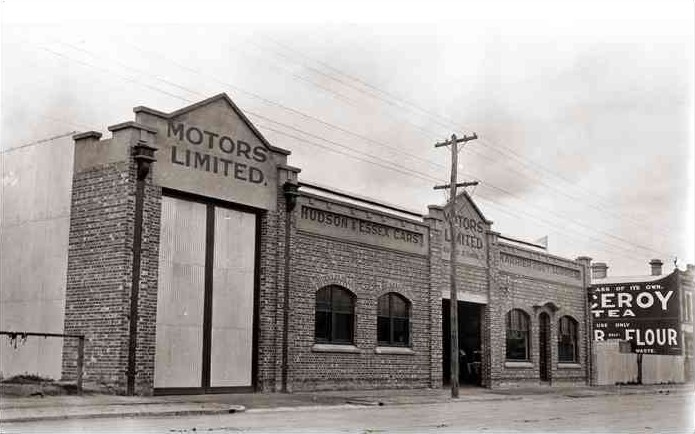 Motors Ltd., North side of Gilbert Street, 63 yards east of Norman Street. Photo from April 22nd, 1924, showing the recently completed premises of Motors Limited,erected between August 1923 and April 1924. The firm advertises Hudson and Essex cars and Karrier & Guy lorries. Previous address of 44 Flinders, circa 1918. (Still in business as of November 1953 at the Gilbert Street location, but no mention of car brands sold at that time.)


VICTORIA
Birchip, Victoria:


Crossbie's Garage, Main St. Dealer: W.T. Jenkin. 1920s.

Melbourne:
Kellow-Falkiner & Co., Collins St, Circa 1918.

Melbourne: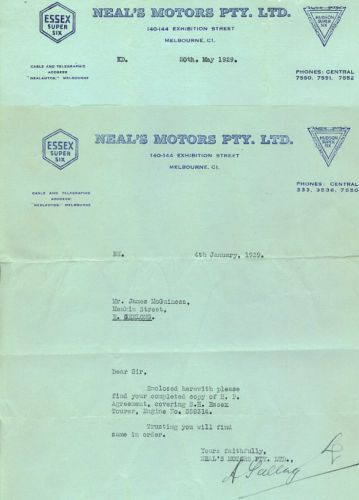 Neal's Motors Pty., Ltd. [subsidary of Rootes Group vehicles?], 140-144 Exhibition St. In business from at least 1929-1947. Nealís Motors were the Victorian and the Riverina (southern part of New South Wales) Distributors for Hudson cars and Diamond ĎTí trucks. Their founder was a Mr Harry Lane, Neal being an anagram of his name. Photo shows two 1929 letters on Neal's Motors letterhead with address of 140 -144 Exhibition St. in Melbourne written to gentleman in Geelong who had purchased an Essex. Other address have appeared for this dealership as 222 Exhibition St. and Unknown Elizabeth St. in unknown years.

The Argus [Melborne paper] reported on Tuesday 3 April 1934, page 4 in an article titled "Spares for Hudson and Terraplane" that, "Neal's Motors Pty. Ltd, distributors of Hudson and Essex Terraplane cars in Victoria, state that the Hudson Motor-car Company has established a new department, which will ensure the prompt despatch of adequate supplies of parts for each new model of these cars. This will be of considerable assistance to overseas distributors." Neal's Motors was also mentioned in a 1939 article.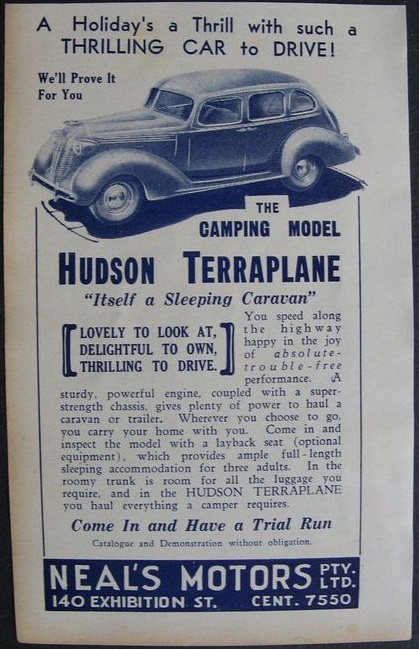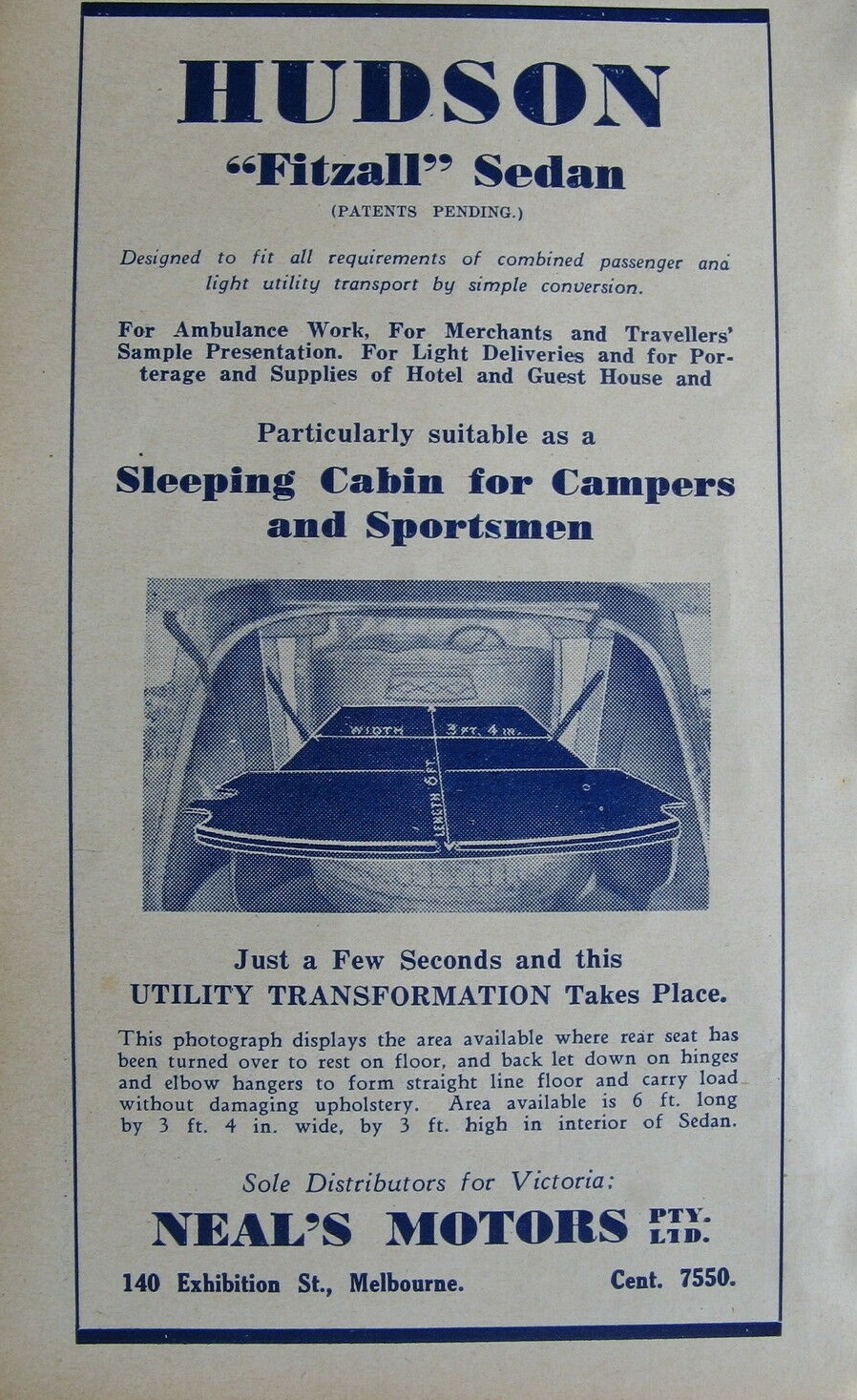 1937 advertisement for an aftermarket Hudson accessory.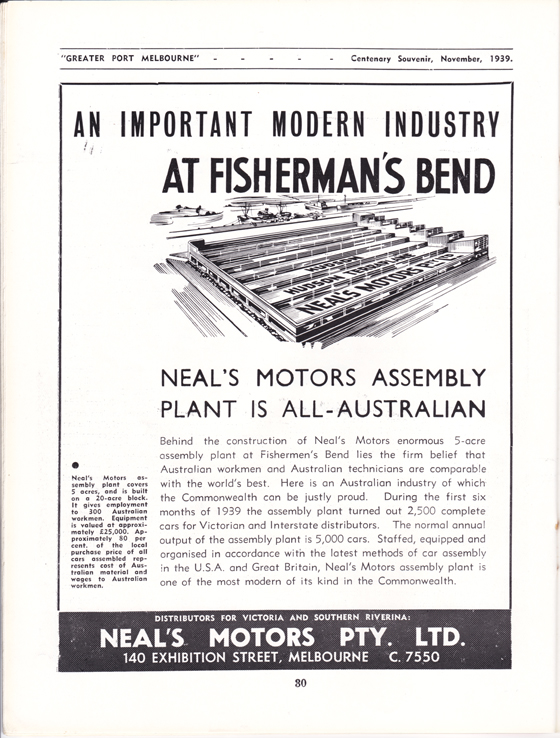 1939 Port Melbourne Centenary Souvenier

Late 1939, Nealís Motors moved into new premises at (214)-222 Exhibition Street, Melbourne after obtaining the State Distributorship for the British Rootes Groupís Hillman, Humber cars & Commer trucks (previously held Overseas Motors) Click here to view 1947 picture of showroom.. Then on March 1, 1940 Nealís purchased Overseas Motors, with it became the Distribution of Oliver tractors. As a side note, Australian Motor Industries (AMI) were assemblers of the British Standard-Triumph cars and Ferguson tractors took over the assembly of Rambler along with the Japanese Toyopet (Toyota) cars, which eventually absorbed most of their production, to with all became part of the new Toyota Manufacturing (Australia).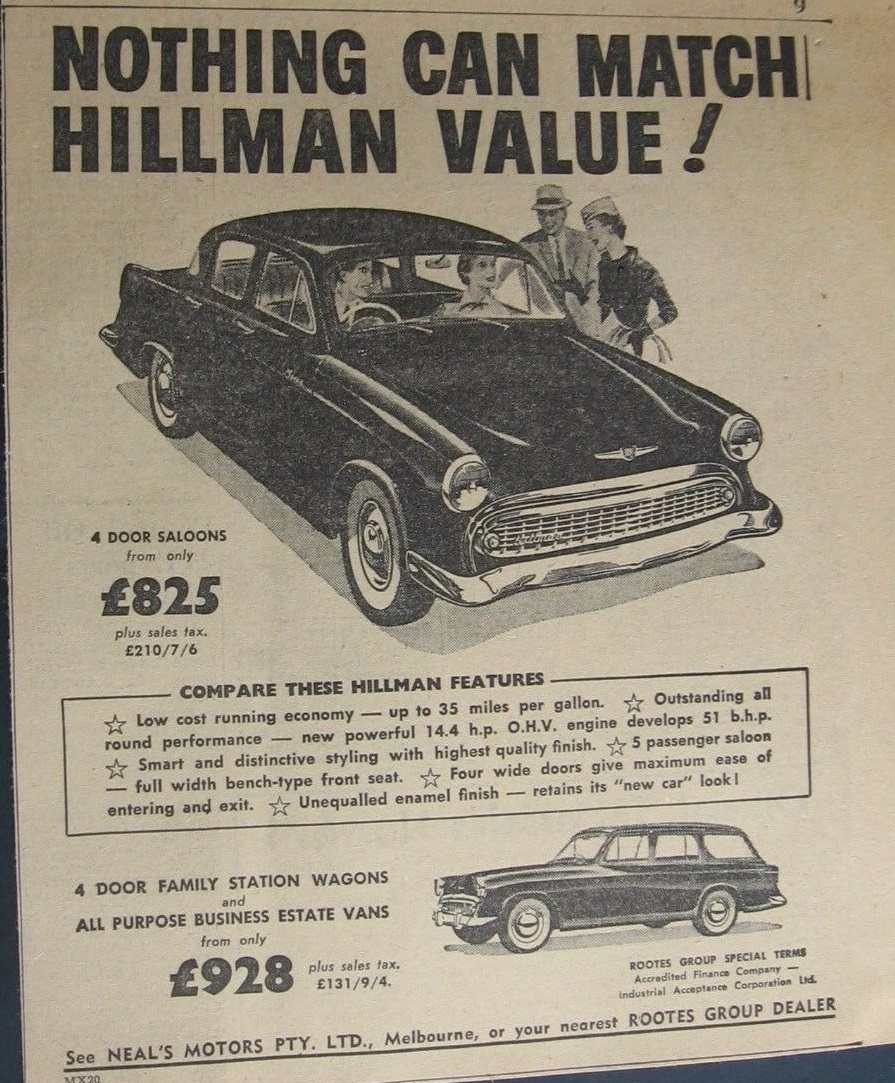 Neal's Motors 1959 Hillman ad. Rumored to have also sold Ramblers in 1957-1958.


WESTERN AUSTRALIA
Perth:
Mortlock Bros., Mentioned in The West Australian on page 6 of Thursday May 28, 1936 as "the local agents for Hudson Terraplane cars."

W. Johnson & Co, Ltd., circa 1918.


---

Courtesy HET JetSet - All Rights Reserved.